Outdoor tables might not provide the same bounce consistency as indoor models (with a couple of notable exceptions), but they can still be a lot of fun on warm days. In this article, we've listed five of the best outdoor ping pong tables to help you make the right choice for your requirements. Enjoy!
Do you want to buy a ping pong table but simply don't have enough space in your home or garage?
If so, an outdoor table could be the perfect solution.
While indoor tables are often the only choice for serious players, outdoor models are great for recreational games – and they tend to be more sociable too. So, if you want to play while having a barbecue and a few drinks, or while entertaining your family on warm days, an outdoor model is a great choice.
Choosing an outdoor table tennis table isn't always easy though. There are plenty of options on the market, but many are either not fully weatherproof or have a terrible bounce. Others are overpriced.
For this reason, I've put together a list of the five best outdoor ping pong tables on the market. The list includes models for both beginners and experienced players, so there's something for everyone.
Which Are the Best Outdoor Table Tennis Tables?
Listed below are five of the best outdoor ping pong tables available at the moment. I've included details about the bounce, durability and value in each review to help you make an informed decision.
Unlike my page on the best indoor tables, there's a clear winner in this category: the Kettler Outdoor 4. It's an outstanding model and the best option if you want an excellent bounce and great durability. The downside is that it's VERY expensive in the USA. Fortunately, there are still some high-quality alternatives for much more reasonable prices – so read each review carefully to find the right one for you.
1. Kettler Outdoor 4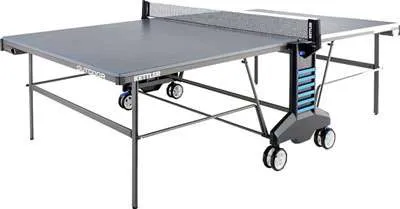 If you're looking for the best outdoor table, the Kettler Outdoor 4 is my top pick. It's an outstanding model from the popular German manufacturer – and one of the few I've reviewed with a thick 22mm composite top for great bounce.
Why is this such a great outdoor table though?
The main reason is the 22mm weatherproof playing surface. This is made from a combination of aluminum and ALU-TEC Climate-Control underside, allowing for a true bounce along with long-term durability and anti-warp protection. The surface also has two layers of coating and a UV resistant finish for long-term protection.
Unlike most outdoor models, the Kettler Outdoor 4 has a highly consistent bounce and relatively fast speed of play. This is great for beginners or recreational players, but even better for more advanced players who want a table that can match the true table tennis bounce of indoor alternatives. For getting as close as possible to the bounce of an indoor playing surface, it's hard to beat the Outdoor 4 – at least in this price range.
It also has a highly durable undercarriage. The oval legs are 1.5″ wide and made from steel, plus they have levelers to get a level playing surface. There's also a 1″ tubular steel apron, to protect the playing surface edges, and dual-swiveling wheels.
In its play position, the Kettler is regulation size (9′ x 5′), but both halves can be folded to save space and to make the model portable. It also has four wheels and even a ball box, which is great if you're sick of chasing balls around the garden after every point.
Aside from the table itself, the net stays in place when the Kettler is folded, which saves on setup time. There's also a playback feature and locking function, so you can store the table with ease. Corner protectors are included, which is vital if you have children running around the garden.
The biggest downside to the Outdoor 4 is the price. It's an expensive model, even when on sale, but this is to be expected if you want a high-standard of performance from an outdoor model. The table also isn't as easy to setup as other models (you'll need at least two people), although once done it's easy to switch between storage and play modes.
Note: Kettler also sells the Outdoor 10. The two models are similar, but the Outdoor 10 is more expensive and has a sturdier frame. If you're looking for a premium outdoor table, then the Kettler Outdoor 15 is also worth considering.
Summary: The Kettler Outdoor 4 is an easy pick for the best outside table. It's durable, has excellent bounce that rivals indoor models, and has a variety of extra features such as ball storage and net. The only downside is the price.
Table Thickness: 22mm
Table Material: Alu-Tec (coating + aluminum + resin-treated board)
Price Range: $$$$$
22mm playing surface provides outstanding bounce consistency for a proper game
Easy to fold up when not in use
Expensive – but it's worth the money
2. Joola Nova Outdoor
While the Kettler Outdoor 4 is the best outside table, its price is a barrier to many – especially if you only want a table for fun family games. What if you need an outdoor table that can provide a decent bounce without the high price tag?
In this case, the blue Joola Outdoor Table is my top pick. It's considerably cheaper than the Kettler, yet has a hard-wearing weatherproof composite playing surface, rust-resistant undercarriage and a quick-folding design.
Let's start with the playing surface. It's a 6mm table top made from an aluminum / plastic composite, so don't expect the same quality of bounce as the Kettler. Even so, it provides decent bounce that's good enough for recreational games.
It's also built to last. The undercarriage is powder-coated, which helps it survive through the rough winter months (make sure you get a cover if it's left outside though). There are four levelers for getting a horizontal playing surface, along with 3″ heavy duty caster wheels so it's portable and easy to move around. The table is also made from two separate parts, which allows for nesting when storing and even a playback position for practice.
The best part is the price. It's relatively cheap (even when not on sale) compared to many outdoor models, yet has the performance and durability of much more expensive tables. A bonus is that assembly is straightforward, so you shouldn't need to spend hours putting it together.
Summary: If you want a weatherproof outdoor table for family fun or recreational games, the Joola Nova Outdoor is a great choice. The 6mm playing surface can't match the Kettler, but considering the price it's enjoyable to play on and provides a decent bounce.
Table Thickness: 6mm
Table Material: Aluminum Plastic Composite
Price Range: $$
Great value for money and beautiful design
Durable and has a decent bounce
Not suitable for advanced players due to the thin playing surface
3. Cornilleau 540m Crossover Outdoor
If you're looking for a premium indoor outdoor table, the Cornilleau 540m Crossover is a great choice. It has the durability to cope with outdoor conditions, while also providing a decent bounce for indoor games.
What makes the 540m worthy of such a hefty price tag though? Firstly, the playing surface is made with a 7mm resin laminate surface. This is coated in a glare-reducing top layer, which helps increase ball visibility while making the table more durable and weatherproof.
It also comes with huge 8″ wheels which are perfect for moving the table around outside. Smaller wheels may struggle with more rugged terrain, but the 540m can be moved almost anywhere in a garden without issue. The strong galvanized steel frame, complete with a secure locking system, make the table highly durable.
As you would expect from a premium outdoor model, it's folds smoothly and quickly. Initial assembly can be a pain, but once setup it's a joy to play on and can easily be folded away. Keep in mind that it has a fixed metal net though, which plays differently to a traditional fabric net (if you want a similar table but with a traditional net, you might want to consider the Cornilleau 600X Outdoor).
While it can't match the thick playing surfaces of indoor-only tables, it's amongst the best when it comes to outdoor models. The design of Cornilleau tables are also regularly updated and improved, so the 540m is even better than the company's previous models.
Summary: The Cornilleau 540m Crossover is a fantastic table that's great for both indoor and outdoor play. While the 7mm surface isn't thick enough for high-level play or serious practice, it provides decent bounce that's great for recreational games or beginners. If you want an outside table tennis table that closely matches the bounce of indoor models, however, then go for the Kettler.
Table Thickness: 7mm
Table Material: Laminate Surface
Price Range: $$$$$
One of the most durable tables on the market
Excellent bounce considering the 7mm top
4. Butterfly Playback Outdoor Rollaway
If you're looking for a premium outdoor table, but the Kettler or Cornilleau are outside your budget, the Butterfly Playback Outdoor is a great alternative – at least for recreational play.
The top is made from a form of synthetic laminate. This provides a responsive surface that feels a little faster than many outdoor tables, while resisting warping when used outside. The top is only 6mm though, which is much thinner than the Kettler.
For this reason, I don't recommend it for high-level players who want an outdoor table for practice. In this case, the Kettler is really your only option. For fun outdoor games, however, the Butterfly is enjoyable to play on – even if it doesn't closely mimic the bounce of a top-level indoor table.
As you would expect from a premium table, the Butterfly comes with a decent outdoor net that can be left in place when the table is folded. There are safety levers on both sides of the table, to improve safety around children, and relatively big wheels for easier transportation.
It also comes with a ball storage feature and racket holders. This is useful for reducing the amount of time spent collecting balls during a match, while also ensuring you won't lose your equipment between play sessions.
There are a few downsides to this model though. The assembly is much more difficult than other models, such as the Killerspin range. We would have also preferred leg levellers on each leg, as this makes it easier to get a level playing surface. On the other hand, it's easy to fold up once fully assembled, and comes with a generous warranty.
Note: The Butterfly replaces one of our previous top picks: the Killerspin MyT7 BlackStorm. Both are excellent models, but the Butterfly is more widely available.
Summary: The Butterfly Playback Outdoors is a durable and high-quality outdoor table for recreational games. I'm a big fan of the extra touches Butterfly has included, such as the two colour options and ball holders. The surface is too thin for serious practice, but for an enjoyable outdoor game it feels responsive.
Table Thickness: 6mm
Table Material: Synthetic Laminate
Price Range: $$$
Durable table that's built to last
Ball and racket holders
6mm surface is responsive but not thick enough for high level practice
5. STIGA XTR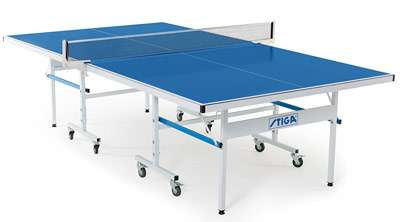 Like the Joola Outdoor Table, the STIGA XTR is designed to provide an enjoyable playing surface for a reasonable price. It's not the most stylish model, nor does it have the highest or fastest bounce, but for fun outdoor table tennis it provides excellent value.
The playing surface is made from a waterproof aluminum composite, so it can be used in any weather. It's 6mm thick, so don't expect professional-standard bounce, but it's good enough for an enjoyable game.
The undercarriage and frame are made from steel, with 1.25″ square legs and welded cross braces. This provides a highly durable base that's strong enough to withstand the elements while providing a stable playing surface. There are also 3″ rollaway wheels, each with locks, so the table is easy to move around the garden.
The XTR is actually two independent halves, so it can be nested when stored. Each half has a safety latch system, which is important – especially if you have children. An advantage of this two-half system is that the table can also be placed in a playback position for practice.
Like many STIGA ping pong tables, the XTR is almost pre-assembled when it arrives. This "QuickPlay" design means you can be ready to play in around 10-15 minutes, which is much faster than many of the other models on this list.
Considering the relatively low price tag, the XTR has a satisfying heavy-duty construction that is certainly strong enough to withstand the elements. It also has great playability for an outdoor model in this price range.
Summary: The STIGA XTR is easy to fold, has excellent playability for its price range and provides great value for money. Don't expect the consistent bounce of the Kettler or Cornilleau, but for everyday games it's a great choice.
Table Thickness: 6mm
Table Material: Aluminum composite
Price Range: $$
Highly durable and great playability
Excellent value for money
Not suitable for serious practice
How Are Outdoor Tables Different to Indoor?
Before you buy an outdoor table, it's important to know the differences between outside and indoor models.
In many ways, outdoor tables are very similar to indoor models. They both have the same regulation size and height, and the nets should also be the same dimensions. An advantage is that it's easier to find space to play outside – even a small garden should provide plenty of room.
When it comes to pro competition, however, table tennis is an indoor sport. Even a slight wind can affect the trajectory of a lightweight ping pong ball, so outdoor competitive games aren't viable. Damp patches can also affect the bounce of a ball.
There are also big differences in how outdoor tables play. Most outdoor models are made from a combination of wood and metal, along with weatherproof coating to protect from wind, sun and water. This affects the bounce, as outdoor playing surfaces absorb more energy from the ball. The result is a lower bounce and slower game.
With that said, plenty of people still play table tennis outside. The slower and lower bounce often isn't an issue for recreational players – and there are plenty of poor-quality indoor tables that suffer from similar problems anyway.
Outdoor games can also be great fun, as the extra space provides more scope for socializing. Tables have also been installed in parks and public spaces around the world – many with concrete tops to provide extra durability. You're often at the mercy of the weather though, as a proper game is almost impossible if there's a lot of wind or rain.
To help you get the most out of your outdoor table, here are some tips for a more enjoyable game:
Look for levelers on each leg. These are essential for creating an even playing surface on uneven ground. Playing on a tilted table isn't fun for anyone!
Wind is your biggest enemy when playing outside. Try to position a table next to a tall fence, as this will reduce the impact of a light wind.
If playing on grass, a non-slip mat can help protect the grass while providing extra grip. Make sure you remove the mat when you're not playing though, otherwise you'll end up with a dead patch.
Avoid the cheapest outdoor table tennis tables. They nearly always have awful bounce and won't last long – even if they are meant to be "weatherproof." You should expect to pay at least $450 for a decent quality table, and over $1000 for one with a more consistent bounce.
Take care of your table. Even the best waterproof models won't last forever if left outside all year round, so you need to provide some protection. Foldable outdoor tables are great for storing in a garage during winter, while covers provide extra protection from the elements.
FAQ
Should I Buy a Cover?
Yes! While the best outdoor table tennis tables are highly durable and designed to withstand the elements, they won't last forever if you don't protect them.
For this reason, I always recommend buying a cover (some models come with a cover so check before you buy). It's also a good idea to fold the table after use and store it somewhere dry, such as a garage, although this isn't always possible.
On a side note, in warm and dry conditions you may be able to wheel an indoor table onto your patio. You shouldn't do this on a damp day though, as water can cause the wood top to warp which may permanently ruin the playing surface.
Buying a Used Model – Good or Bad Idea?
If you're on a tight budget, you might be considering buying a used outdoor ping pong table. There are often some great second-hand deals available, especially on eBay, Craigslist and local equivalents.
Be careful when buying a used model though. While there are some excellent bargains to be found, some people try to sell tables that haven't been cared for correctly. Look for any signs of warping, and have a quick game to see whether there are obvious dead spots.
Can I Make a DIY Outdoor Ping Pong Table?
Making an outdoor table isn't easy, but it's possible if you have a lot of time, patience and spare cash for the various components. Don't expect the same quality of bounce as a commercial product – but for a quick game a DIY table may be all you need.
Many guides to making a DIY table simply use a 9′ x 5′ wooden board over some basic legs. This is fine for indoor games, but if used outdoors the wood will quickly start to warp as it's not waterproof. Instead, you either need to use metal or create a concrete mold for the top. As you can imagine, concrete doesn't have a similar bounce to "proper" playing surfaces, but for a basic game it can still work. Concrete tops also can't be folded or stored.
As you've probably guessed, making a concrete outdoor table tennis table is beyond the scope of this article and my expertise. It's more hassle than it's worth, in my opinion, unless you want to take on the project as a hobby rather than to get a playable table – especially as the Joola and STIGA above are available for very reasonable prices.
Which Are the Best Brands?
There are plenty of options when it comes to outdoor tables. Two of the best brands are Cornilleau and Kettler, as both have a range of models that are suitable for outdoors. Joola and STIGA are best known for their indoor products, but also produce several outdoor models (such as the Joola Nova DX and STIGA Coronado). Other brands include Butterfly and Dunlop.
I recommend staying away from outdoor pool and ping pong combinations (often called combo tables). While these can be fun for a quick game, they tend to have terrible bounce – plus the pool surface often leaves a lot to be desired. Outdoor conversion tops are also usually not worth buying.
Where to Buy?
As I always say in these article, it's more important that you get the right brand and table for your requirements than where you buy from – especially as there are plenty of places you can find an outdoor ping pong table for sale. Most of the major retailers, such as Amazon, Walmart, Costco and Sears, sell some of the best outdoor tables from brands such as Kettler and Joola. You can also buy the tables from MegaSpin and Dick's Sporting Goods.
One thing to keep in mind is that shipping can add a considerable cost if you're not careful. Some retailers offer free shipping when delivering a table tennis table, which can save you a reasonable chunk of money. You may need to be patient if you want to wait for the best deals and special offers.
Where Can I Get Replacement Parts?
Finding replacement parts for any table tennis table isn't always easy. The first place to look is sites like Amazon, as they often have individual parts for sale for specific tables. You can also try contacting the manufacturer directly, as they may be able to point you to a retailer that sells components. Finding the right part can be hit or miss though – you'll often need to spend some time searching smaller websites to find the correct product.
Summary
An outdoor ping pong table can be a fun addition to any home. While outdoor tables are usually only suitable for recreational play (with a couple of notable exceptions, such as the Kettler Outdoor range), they are great for a fun family game or for socializing with a few drinks on a warm day.
The right table depends on what you want it for though. The best option for a family table is very different to a table for serious competitive practice, so you need to be careful which you choose.
To summarize this article, here are my top recommendations:
The best outdoor table tennis table is the Kettler Outdoor 4. With its 22mm playing surface, it can match most indoor tables for bounce consistency. It's also easy to fold and highly durable. If you can afford it, get the Kettler – you won't be disappointed.
For family games and recreational play, the Joola Outdoor table is a cheaper choice. It provides decent bounce and is highly durable – plus it offers great value for money.
I hope this article has helped you choose the best outdoor table tennis table for your requirements. If you have any questions, please use the comments form below. Thanks for reading!