STIGA are one of the most famous manufacturers of table tennis tables. But with over 30 tables on the market, which are their best products? And are there any you should avoid? In this article, we review the best STIGA ping pong tables to help you make the right choice.
When it comes to ping pong accessories, there are few brands that can match STIGA's reputation. With a wide range of paddles, bats, balls, rubbers, nets and blades, the company is one of the best for ping pong products.
The company also has an excellent reputation for producing high-quality ping pong tables. Their range includes iconic models, such as the STS series, Eurotek and Master Series, along with a host of others for beginners, intermediates and professional play.
This wide range can make it hard to know which STIGA to choose though. That's why I've put together a list of the best STIGA tables depending on your skill level, budget and requirements.
Which Are the 5 Best STIGA Ping Pong Tables?
Listed below are my 5 top picks for a STIGA table tennis table. Keep in mind that the right option for you depends on your requirements, so make sure you read the reviews carefully and compare each model before deciding on the best option.
Our Favorite STIGA Indoor Table:
1. STIGA InstaPlay
If you're looking for a mid-range indoor model that provides decent bounce and a sturdy design, the STIGA InstaPlay is a great choice. While it's not quite thick enough for high-level play, it's an attractive model that's perfect for recreational play or players who are starting to progress beyond "beginner" level.
The InstaPlay is built with a 19mm table top. This is thick enough for a consistent bounce, so it's suitable for more serious practice than entry-level tables. It also provides a compromise between cost and bounce quality.
Aside from the 19mm playing surface, the InstaPlay is a sleek and stylish roller model with a dark grey design. It can fold up when not in use, which saves space compared to non-folding models.
As you would expect from a STIGA, it's a durable model. The legs are made from 2″ square steel, which gives the table a solid feel and ensures it'll last a long time (if it's cared for correctly). The playing surface is also tough enough to withstand regular use.
Additionally, the InstaPlay is easy to move around the home, due to the eight 3″ wheels. Four of these have locks, so the table can be secured to avoid movement during a game.
Summary: The STIGA InstaPlay provides excellent value for money and is one of my top recommendations for a ping pong table. The 19mm playing surface can't match 22mm+ models, but it's thick enough for a decent bounce and is enjoyable to play on. If you want a table for practice or recreational play but can't afford more expensive models, it's the perfect option.
Table Thickness: 19mm
Indoor/Outdoor: Indoor
Price Range: $$$
Excellent build quality with a sturdy design
Great value for money
19mm is good enough for recreational players, but isn't as consistent as more expensive options
Our Favorite STIGA Outdoor Ping Pong Table:
2. STIGA XTR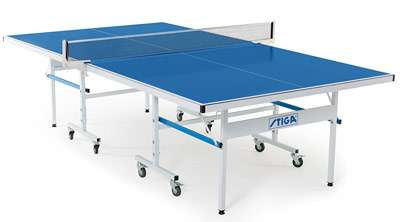 While STIGA are known for their excellent indoor tables, their outdoor tables often leave a lot to be desired (in my opinion) – especially for serious practice. The two primary models in the US are the Baja and Coronado, but both have very low bounces considering their cost, making them difficult to recommend.
With that said, the XTR is the best of the bunch, and is fantastic for family games. It's a solid model with an attractive blue color scheme and durable design. Just be aware that the bounce feels "off" compared to indoor playing surfaces – but this is common to most outdoor models.
The main feature of the XTR is the waterproof aluminum composite top. This is designed to withstand weather in almost any climate, so the table can be stored outside – although I still recommend getting a cover to protect it as much as possible. A bonus is the table comes 95% preassembled, so it's quick to setup.
One of the drawbacks of the XTR is the 6mm playing surface. This is far too thin for serious play, so don't expect the XTR to replace an indoor table for serious practice. On the other hand, the surface plays well enough for a fun family game, which is all you can expect from an outdoor table in this price range.
Other features include a fold up design – the table is actually two separate parts – and a safety latch system. The XTR also comes with a 72 inch net and can be used in playback position for practice.
Note: The STIGA Vapor is a similar choice that may also be worth considering.
Summary: If you're looking for a durable outdoor ping pong table for family fun, the STIGA XTR is a great choice. It also provides excellent value for money. The thin playing surface means it's not suitable for serious play though – and don't expect the speed or bounce of an indoor model.
Table Thickness: 6mm
Indoor/Outdoor: Outdoor
Price Range: $$
Highly durable and suitable for outdoor use
Great for family games or recreational play
Thin playing surface isn't suitable for practice
Other Notable Mentions
3. STIGA Advantage
If you want the quality of a STIGA ping pong table without spending too much money, the Advantage could be the perfect choice. While it's not thick enough for serious play or practice, it's a great option for beginners or recreational players – especially if you're on a tight budget.
As you would expect from a table in this price range, the Advantage has a relatively thin 16mm playing surface. The surface is considerably better than the cheapest 12mm models though, and provides a consistent bounce that's great for fun games.
With that said, I wouldn't recommend the Advantage for people practicing for competitions. The thickness means it bounces slower and lower than those used in competition, so it could get you into bad habits.
Aside from the playing surface, the Advantage is made from two separate halves. Both halves have independent casters, so it's easy to move around and store when not in use. It's also easy to put together, which is helpful if you hate DIY!
Like most STIGA tables, the Advantage comes with a high-quality net that includes tension adjustment. It also has a solid undercarriage and should last a long time.
Summary: The STIGA Advantage is one of the best entry-level models on the market. While the 16mm playing surface is too thin for serious players, it's great for beginners or those who just want to play recreational games. It also provides outstanding value.
Table Thickness: 16mm
Indoor/Outdoor: Indoor
Price Range: $$
Great bounce considering the 16mm top
Excellent value for money
16mm top isn't thick enough for competition players
4. STIGA STS 520
If the Advantage is the perfect option for beginners, the STS 520 (T8525) is the best choice for serious or even professional players. While it's more expensive than the others on this list, it provides great value for a 25mm table.
Let's start with the playing surface. With 25mm thickness, the STS 520 provides excellent bounce that's highly consistent. This makes it a great choice for serious practice and competition-standard players.
Along with the thick playing surface, the undercarriage is built to last. Each leg is made from 2.5″ heavy-duty steel, which provides a stable playing surface and strong support. The 5″ wheels increase stability while making the 520 more mobile, and the legs have levelers to deal with uneven floors.
A handy feature is the ball storage at each end of the apron. This is great for practice, as you won't need to go hunting loose balls. The STS 520 also has a folding design, along with self-opening legs for extra safety. It's relatively compact when folded which makes it easy to store.
There are a few drawbacks though. Due to the more advanced chassis design, the STS 520 is more difficult to setup than other STIGA models (especially InstaPlay tables). You'll need at least two people and a lot of patience. It's also heavy – but that's to be expected from a model with an all-steel chassis.
Even with those downsides, the STS 520 is a fantastic table. It's highly durable, has a great net and outstanding bounce consistency. If you want a STIGA table for serious play, this is the one to get.
Note: STIGA also produces a number of other models in the STS "Competition Standard" range. These include the 420, 385, 285 and 185. While the 520 is the best, mainly due to its 25mm playing surface an all-steel chassis, the other models are also worth considering depending on your budget.
Summary: The STIGA STS 520 a premium table is built for serious play. It's a competition-standard table that rivals those found at most table tennis clubs – and with an all-steel undercarriage it's built to last. The bounce is also excellent, so you can use it to practice for tournaments.
Table Thickness: 25mm
Indoor/Outdoor: Indoor
Price Range: $$$$
Highly durable all-steel chassis & ball storage
Outstanding bounce due to the 25mm top
Difficult to setup and heavy weight
5. STIGA Triumph
Another excellent STIGA table tennis table is the Triumph. It's designed for casual players who want a consistent bounce without spending too much money – and provides great value.
Like the Advantage, the Triumph has a 16mm playing surface. This makes it suitable for recreational games or beginners. Despite having relatively consistent bounce for a 16mm table, I wouldn't recommend it for serious players, as it plays a lower and slower than tables used for competitive play. It's certainly good enough for a fun game though.
Away from the playing surface, the Triumph is built with 2″ legs and yellow supporting tubes for a stability during play. It features a folding design, which is handy but more cumbersome to fold than other tables, and assembly is relatively easy. There's also a 2″ steel apron and 3″ mag wheels for greater mobility.
Other features include a 66″ net and a stylish design. It doesn't come with the ball storage function found on more expensive STIGA tables though.
Summary: If you're looking for a high-quality model for recreational play, and don't want to buy the Advantage, the Triumph is an excellent alternative. The 16mm playing surface isn't thick enough for serious play though (go for the STS 520 instead).
Table Thickness: 16mm
Indoor/Outdoor: Indoor
Price Range: $$
Great for families or recreational play
Excellent value for money
Not thick enough for serious practice
STIGA Master Series
Aside from the models listed above, STIGA also manufactures its popular Masters Series Performance tables. This series includes models such as the ST1100, ST2100, ST3100 and ST4100.
These models are only sold at Dick's Sporting Goods in the US. This is why I haven't included them in my top five list above, as I feel exclusive models make it more difficult for consumers to get a fair price. Even so, the ST3100 and ST4100, in particular, are excellent products that won't disappoint.
Here's a quick run-down of the various models:
STIGA ST1100. This is a conversion top model that's designed to go onto billiards tables. It's 0.5″ thick and has sponge-rubber lining to protect the table below. If you're looking for a regulation size conversion top, it's a solid choice – although the thin design means it's not suitable for anything more than casual play.
STIGA ST2100. The ST2100 is a folding table tennis table with a 12mm top. This is too thin to recommend over other options on this list, although it might be good enough for casual family games.
STIGA ST3100. Unlike the ST2100, this is a table that's suitable for more serious practice due to its 19mm playing surface. It also has a ball storage apron and comes with a net. Read my full review here.
STIGA ST4100. The ST4100 is the flagship model in the Masters Series, due to its 25mm playing surface and full-length ball storage apron. It's pricey, but an outstanding choice for expert players.
That's far from all the STIGA models though. The company manufactures a range of others, including the Evolution, Studio, Optima, Optimum 30, Metro, Spyder, Quick Serve, Excel, Spark, Eurotek (often misspelt as Eurotech), QuickPlay II and AeroTech. While many of these are solid options, I don't think they quite match the ones on this list when it comes to value for money.
FAQ
Where Can You Get Replacement Parts?
Finding replacement parts for STIGA tables isn't always easy, although there are websites that sell them. Sears Parts Direct, for example, sells a variety of parts for several STIGA tables. You could also try contacting the manufacturer directly or a table tennis repair service (these can be useful if you can't fix a problem yourself).
The STIGA website also contains PDF versions of table instructions, which is useful if you lose them or are buying a second hand table. If you decide to buy a used STIGA table, make sure you can see it first – and check that it hasn't been stored in a damp location.
Are Conversion Tops As Good as a Full-Size Table?
Conversion tops can be a good alternative to a full-size table – but only in certain situations. The problem is that most tables, especially pool, table football or snooker, are not the right height for a game of table tennis. This might not be a problem for casual players, but can be an issue for more serious practice. Many conversion tops also don't have the same quality of bounce.
There are a number of STIGA conversion tops on the market. One of the best is the STIGA Duo, which can convert a pool table to a table tennis surface. It doesn't come with a net or posts though, and don't expect competitive-standard bounce either. The ST1100 is also a solid option.
Be careful when judging the dimensions of your existing table. If the dimensions are too large, the top may not cover it, which makes it very awkward to play.
Should I Buy a Cover?
This depends on where the table is going to be stored. Indoor tables usually don't need a cover, unless you're worried about family members or children scratching it. I always recommend buying a cover for an outdoor table though – even if the manufacturer says you don't need one. The extra protection can prevent the table from warping.
Where is the Best Place to Buy a STIGA Table?
Many retailers in the USA sell STIGA tables, so the best place really depends on the current prices and delivery (free shipping is ideal). Online stores that stock them include Amazon, Sears, MegaSpin, Dicks and Walmart. You may also be able to find used tables at eBay or Craigslist.
Keep in mind that it's common for ping pong tables to be on sale throughout the year. Many retailers run regular deals and discounts, so you may want to look for these before making a final decision.
You should check the warranty offered when buying any ping pong table. Some warranties are only available when buying from certain retailers.
The STIGA models available can vary depending on where you live. Many people in the UK, Europe and India, for example, should be able to get the table from online retailers, but they will be different to the ones found in North America. If you can't find a table in your country, feel free to get in touch and I'll see if I can locate it for you. Be particularly aware of shipping costs when ordering from a country you don't live in though.
STIGA vs Joola – Which is Best?
I get this question a lot, but it's almost impossible to answer. Both Joola and STIGA produce fantastic products, so there isn't a "best" option. It's more important to look at the individual models and choose one that most closely matches your requirements.
Summary
STIGA ping pong tables are amongst the best on the market. With a range of options suitable for everyone from beginners to professionals, there's almost certainly a STIGA table that meets your requirements.
To summarize this article, here are my top picks depending on the type of table you're looking for:
I hope this article has helped you choose the best STIGA ping pong table for your requirements. If you have any questions, please don't hesitate to use the contact form below.